Inside: Learn to loom knit the Edelweiss stitch as a flat panel and in the round with detailed pattern instructions and tutorial video.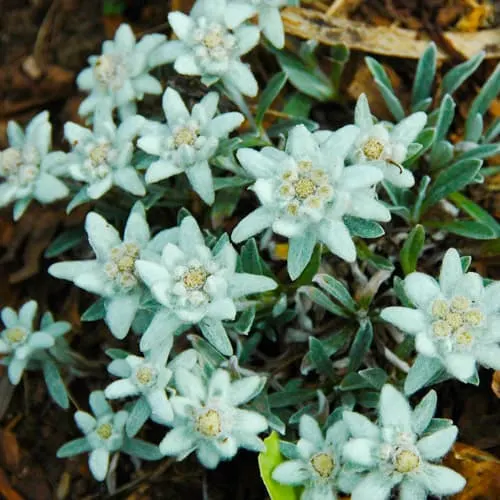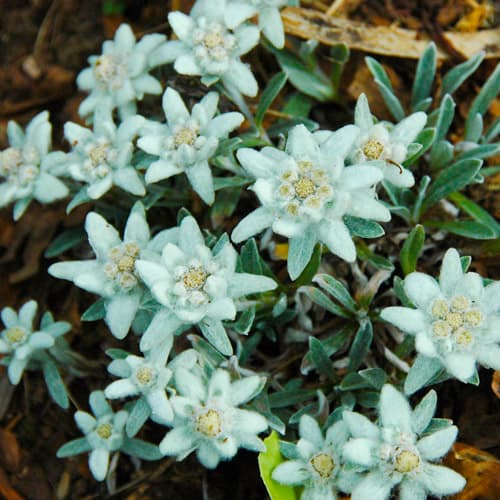 Edelweiss, Edelweiss
Every morning you greet me
Small and white clean and bright
You look happy to meet me

Lyrics by Rodgers and Hammerstein
I can't seem to get this song out of my head!
I had a request from one of my viewers to convert the light and airy Edelweiss stitch to the knitting loom. Once I hear the word "Edelweiss" you know there's a song coming!
I've done many loom knit conversions of needle knit patterns over the years. Even complex stitches don't intimidate too much anymore. I've had a lot of practice, but it wasn't enough for the surprise I got when I converted the Edelweiss stitch.
First, I started by converting the instructions for knitting the stitch pattern as flat panel. Easy! I followed the rules and it was a breeze.
Yes, there are rules for converting patterns. I've outlined them all in my post How to Convert Needle Knit Patterns to the Loom. The rule for flat panel knitting is:
Convert every other row to the opposite stitch. That means a knit becomes a purl and vice versa.
I happily thought my work was done because the rule for converting knitting patterns that are worked in the round is even easier:
Don't change anything! Just work the pattern.
Next, I started loom knitting the Edelweiss stitch in the round and I got something was definitely NOT the Edelweiss stitch. The lovely diagonal rows of tiny, alpine flowers were gone. I didn't end up with what I expected. So, back to the drawing board I went.
I decided to see what would happen if I converted the rounds just like I did for the flat panel and, success! It shouldn't work, but it does.
The funniest part is that I love the stitch pattern that failed. So, don't be surprised if you see a blog post coming out next year with a new stitch pattern. I wonder if how many of our favorite stitch patterns were happy mistakes?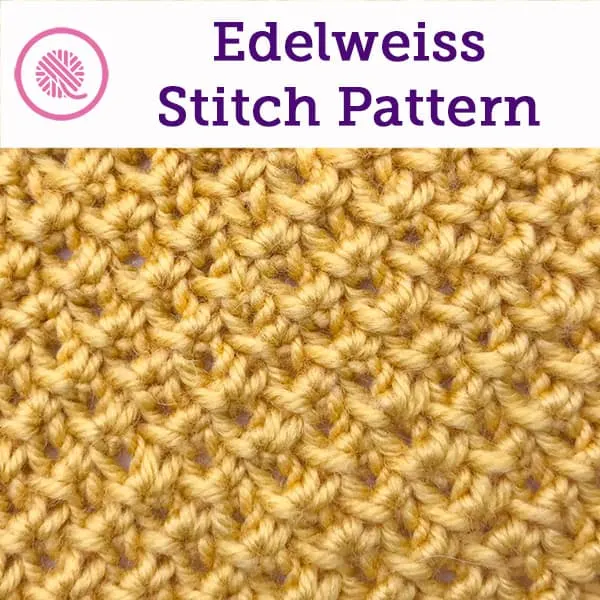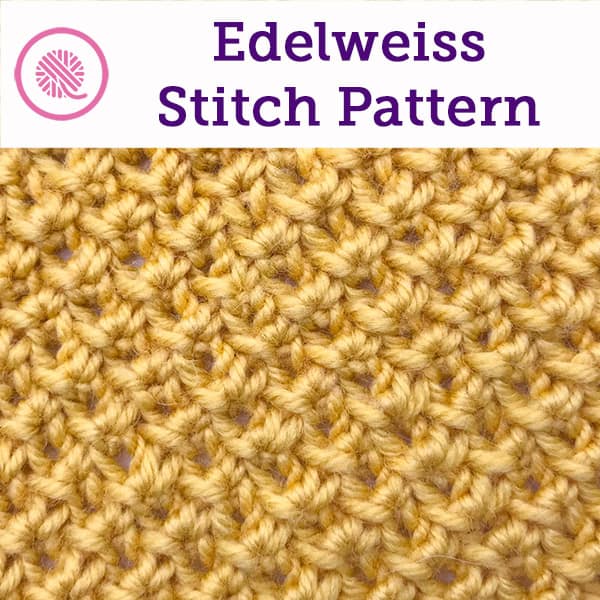 Loom Knit Edelweiss Stitch Features:
Finished fabric doesn't curl so you don't need a border
Small clusters lean either to the right or left depending on the direction you loom knit
The fabric is very stretchy and had a slightly open airy feel
Stitch pattern works both a flat panel or in the round
Flat Panel Instructions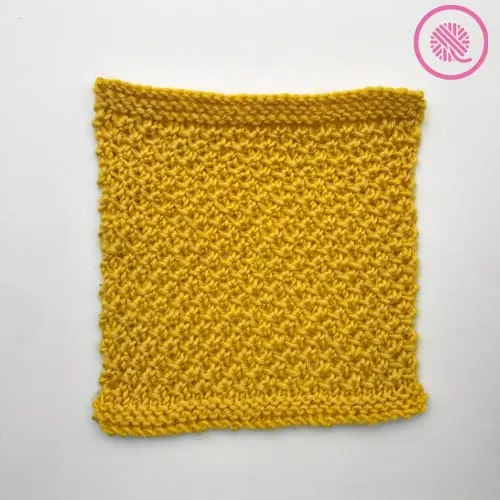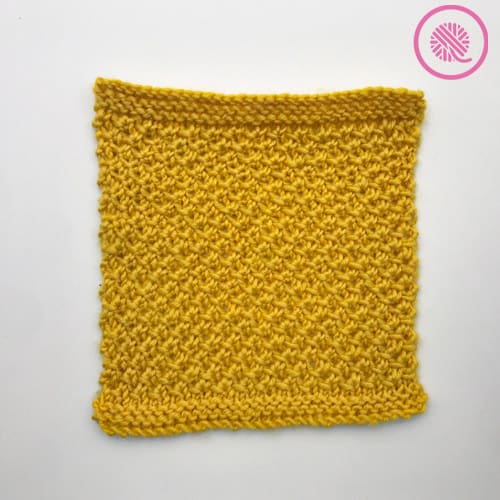 Multiple of 2 +1
Row 1: Knit
Row 2: K1, p2tog, k2tog in same st. Repeat from to end.
Row 3: Knit
Row 4: P2tog then k2tog in same st. Repeat from to last st. K1.
Repeat Rows 1-4 for Edelweiss stitch pattern.
In the Round Instructions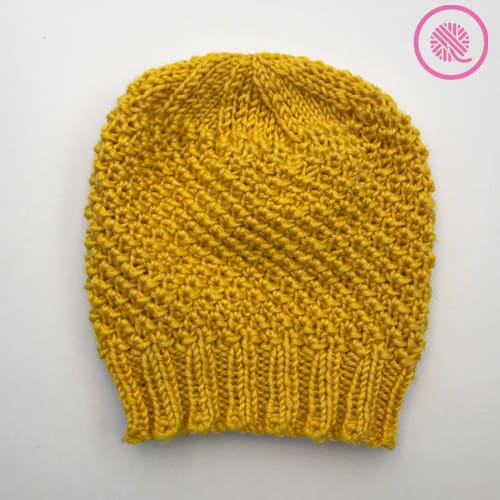 Multiple of 4
Rnd 1: Knit all.
Rnd 2: K1, p2tog, k2tog in same st. Repeat from * to * until 1 st remains. Place last stitch on marked peg. P2tog, k2tog in same st.
Rnd 3: Knit all. (NOTE: The first st is already knit when finishing Rnd 2.)
Rnd 4: P2tog, k2tog in same st. Repeat from * to *, to the end.
Repeat Rnds 1-4 for Edelweiss stitch pattern.
---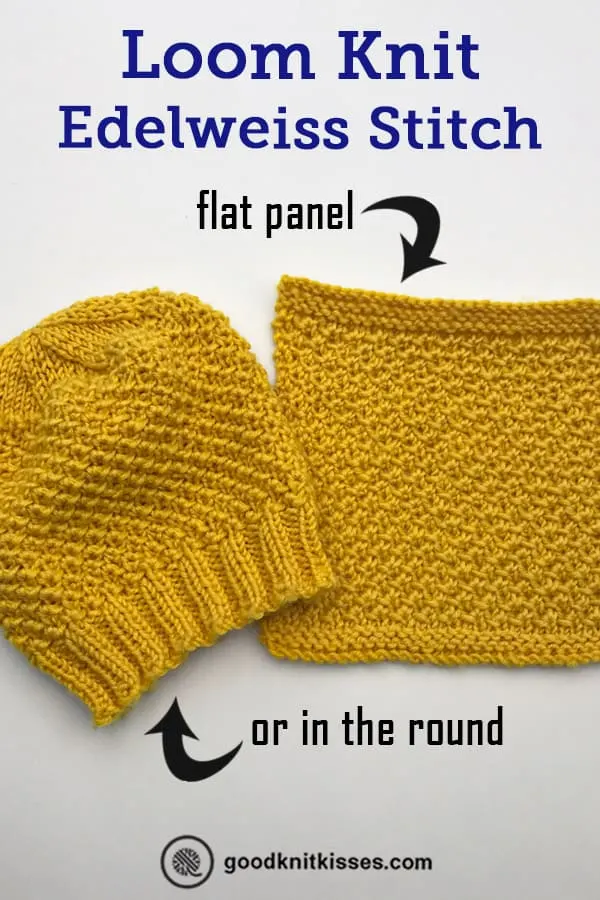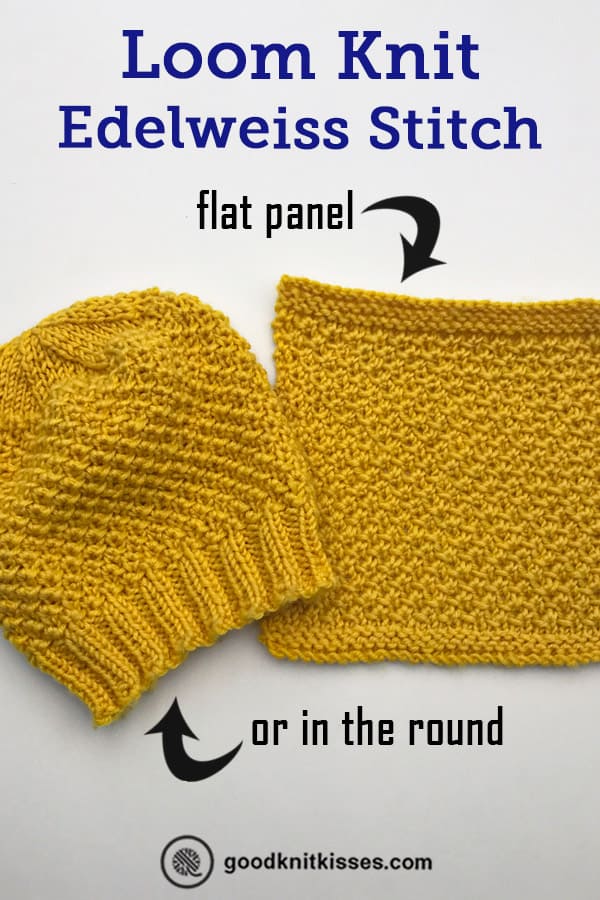 But, seriously, I have to know…. have you been humming the song too while you've been scrolling this post?
---
Loom Knit Edelweiss Stitch Tutorial Video
If any of the videos below do not show they may be restricted to GoodKnit Kisses YouTube members only. Find out more about GKK Membership HERE!
I hope you enjoy loom knitting the Edelweiss stitch. Check out some of my other loom knit stitch patterns:

Sisal and Seagrass
Tumbling Moss Blocks
Dewdrop Stitch
Diamond Lace Stitch (Mock Crochet)
Seafoam Stitch
Trinity/Raspberry Stitch
Triple Rib Stitch
Seed Stitch