Inside: How to loom knit the Beehive Waffle stitch pattern with this free blanket square pattern, knitting chart and fully-captioned tutorial videos for both right and left handers.
Have you heard the buzz?
The Beehive Waffle stitch makes a lofty, stretchy design that will be a perfect addition to a variety of patterns. This easy stitch pattern may look complicated but even a beginner can master it quickly.
While this stitch pattern is not reversible, both the front and back are attractive. Personally, I may even like the back better than the front it almost looks like a mini honeycomb to me.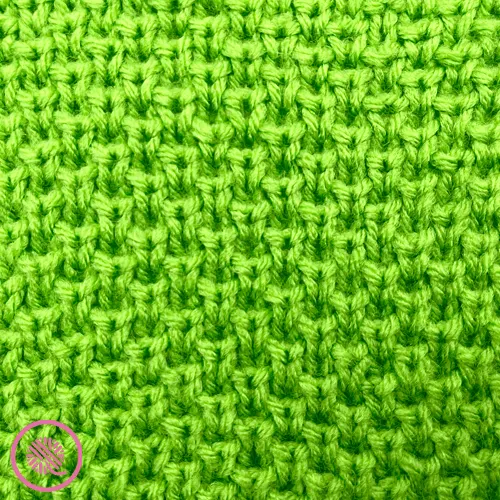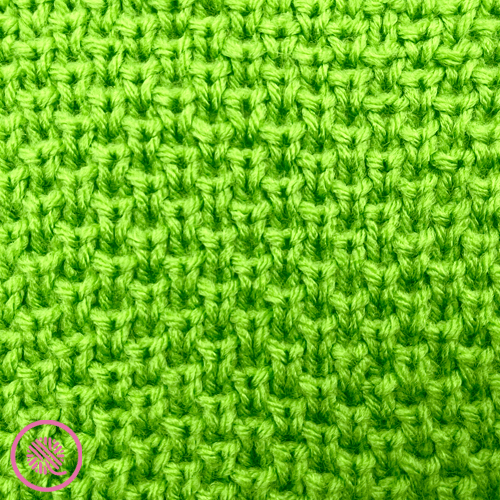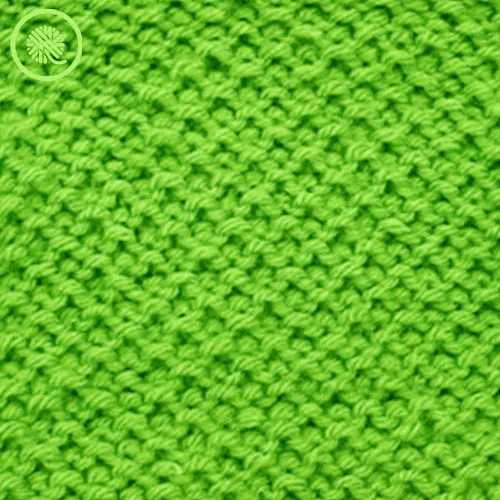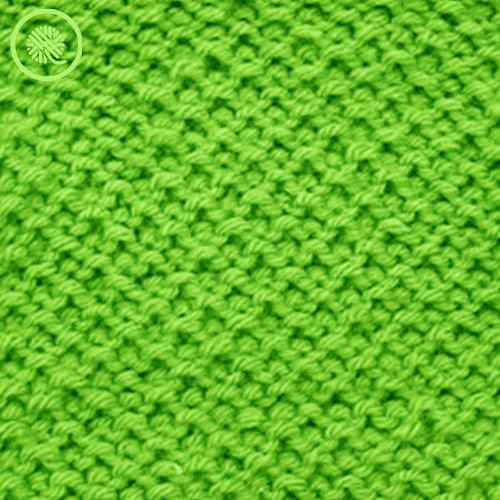 I think this stitch would look fantastic as full size blanket, scarf or cowl. Both sides look great and you can flip it around for a quick change.
I chose to loom knit the Beehive Waffle stitch using a small gauge loom with worsted weight yarn so all the loom and yarn choices for all my stitch patterns this year stay consistent. The stitch is more dense using the ⅜"small gauge (SG) loom. To create a softer fabric with more drape I'd recommend trying a ½" regular gauge (RG) loom. This will make the K1below stitches pop!
Ripple Twist Stitch Pattern Details
Uses knit, purl, knit 1 below and slip with yarn in front of peg (see below)
Flat: Multiple of 2+3
4 row repeat
Loom knitting level: Easy
Not reversible
Try this stitch pattern with the Beehive Waffle Square blanket square pattern below. Pattern includes written instructions for 2 common sizes, knitting chart and links to fully captioned tutorial videos.
You could make the smaller size out of cotton yarn to make a dishcloth and to see how you like working the stitch before you start a blanket.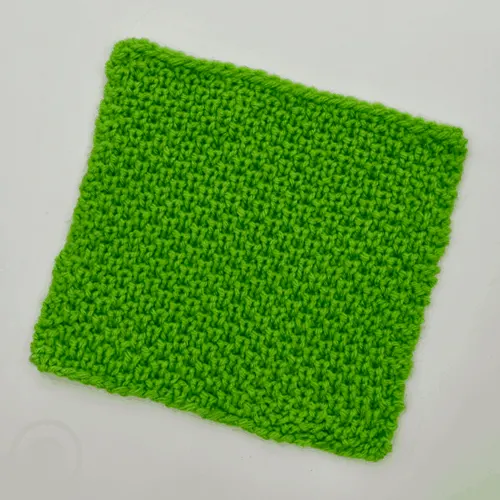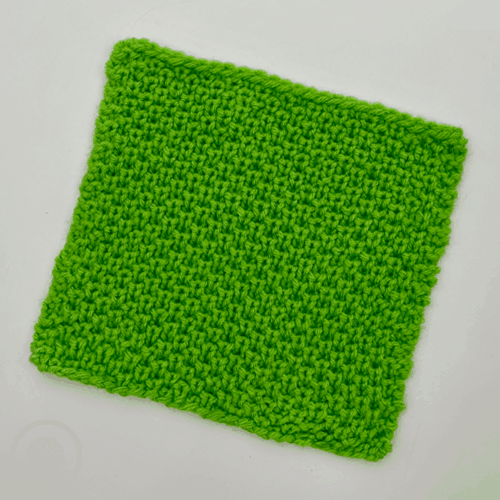 Beehive Waffle Square
By Kristen Mangus
A downloadable PDF of this pattern is available in my Etsy store and from Ravelry at the links below:
MATERIALS
(Materials list may contain affiliate links to products I used to make this project. Using these links cost you nothing, but helps support GKK.)
Yarn
Medium (#4) worsted weight yarn
Red Heart Super Saver in Spring Green used in sample.
Loom
⅜" small gauge (SG) loom with at least 32 (40, 56) pegs.
KB Flexee Loom Skinny used in sample.
ABBREVIATIONS
K = Uwrap Knit
K1below = Knit 1 into the stitch below
P = Purl
Rep = Repeat
SlwyifP = Slip with yarn in front of peg
St(s) = Stitch(es)
For a refresher on loom knitting basics see the blog posts below to get started:
13 Questions for Beginner Loom Knitters
How to Loom Knit Basics
How to Loom Knit Basic Stitch Patterns
How to Loom Knit in the Round
GAUGE
16 sts x 41 rows in 4" in beehive waffle stitch pattern
SKILL LEVEL Easy
MEASUREMENTS
Option 1: 7" x 9" (18 cm x 23 cm)
Option 2: 12" x 12" (30.5 cm x 30.5 cm)
NOTES
I've included square sizes in this pattern that are commonly used to make blankets.
The Beehive Waffle stitch pattern is a multiple of 2 +3 if you want to change the size.
Don't let these new abbreviations in the pattern scare you away. This stitch is easier to loom knit than it is to read!
Slwyifp (Slip with yarn in front of peg): Wrap the yarn in front of the peg (straight in front, do not ewrap) and do not work the stitch. This leaves 2 loops on the peg.
K1below (Knit 1 below): Wrap above the existing loops on the peg and knit both loops over.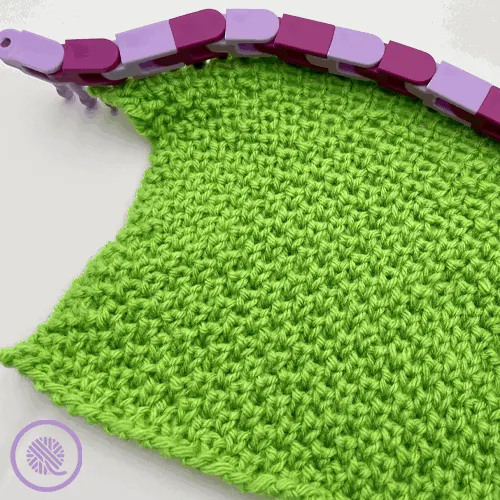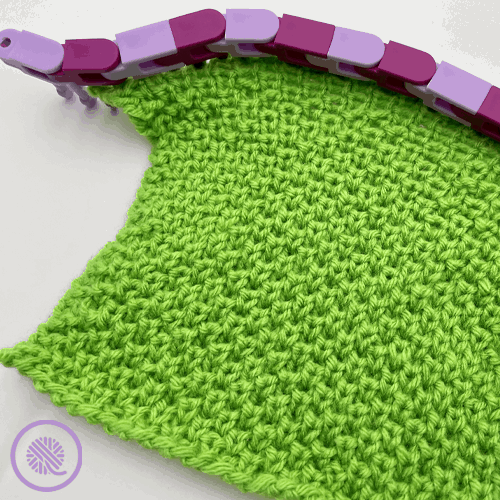 INSTRUCTIONS
Cast on 29 (49) sts.
Row 1: *P1. SlwyifP. Rep from * to last st. P1.
Row 2: K1. *K1below. K1. Rep from * to end of row.
Row 3: P1. *P1. SlwyifP. Rep from to * last 2 sts. P2.
Row 4: K2. *K1below. K1. Rep from to * last st. K1.
Rep Rows 1-4 until desired length ending on a Rows 2 or 4. (To guarantee an accurate measurement, thread scrap yarn through stitches on loom and take sample off loom. Pull downward on the fabric to relax stitches then confirm correct length. Place back on loom before binding off.)
Bind off knitwise. Weave in ends and block, if desired.
CHART
Beehive Waffle Knitting Chart
The area in red shows one full repeat of the stitch pattern.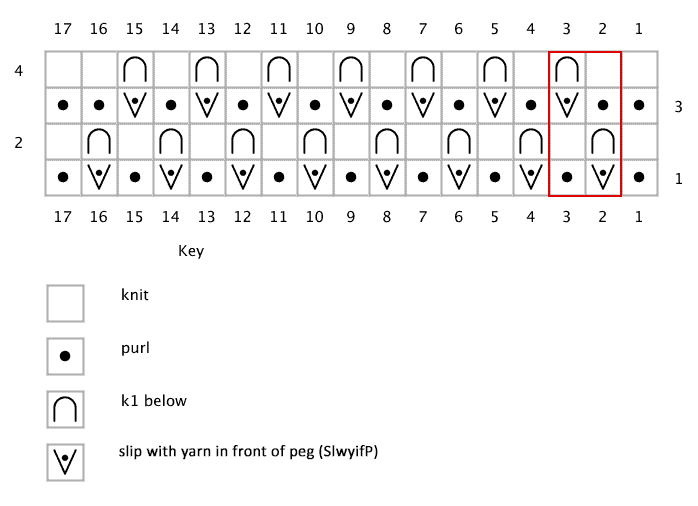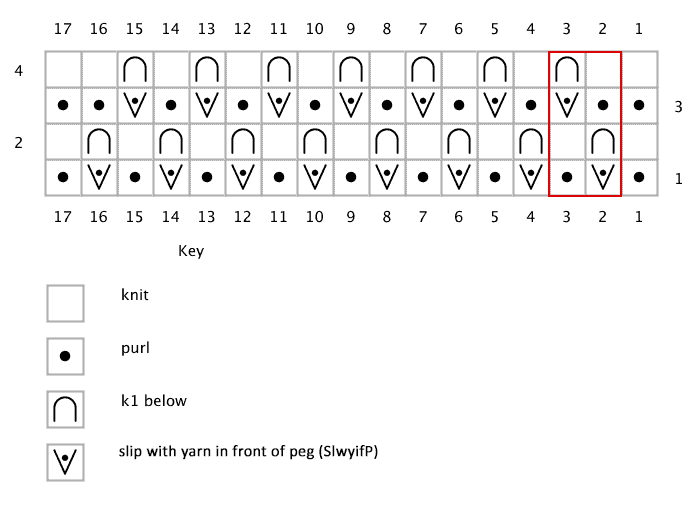 ---
PIN IT!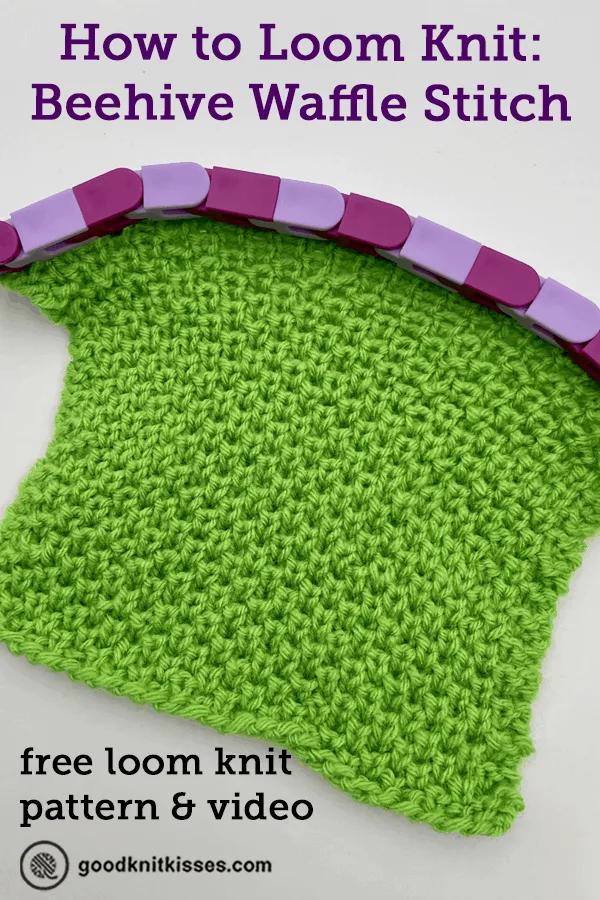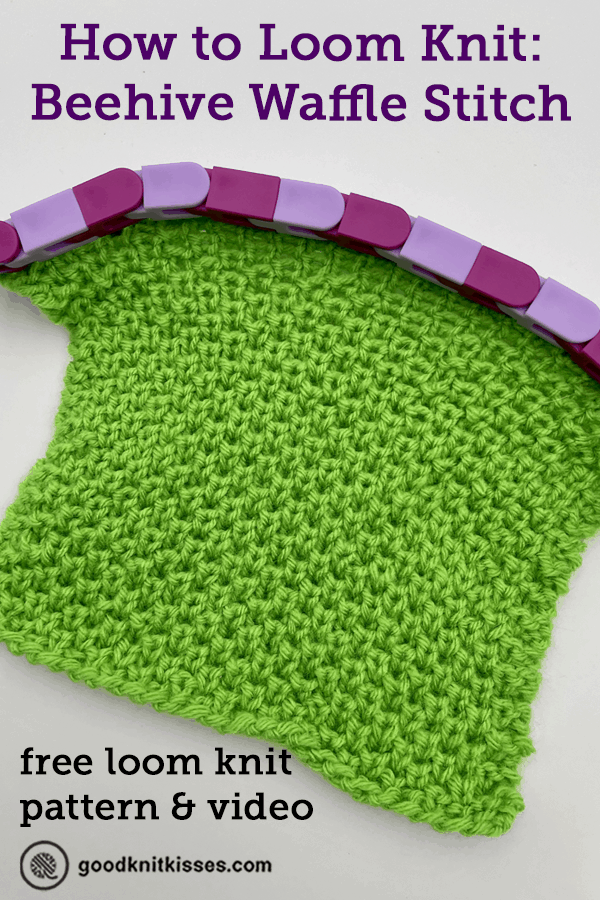 ---
How to Loom Knit the Beehive Waffle Stitch Video Tutorials
Select videos are available to GoodKnit Kisses YouTube members only. To get exclusive access to GKK VIP-only content, free PDF patterns, weekly Zoom meetup and more, sign in to YouTube and join as a VIP Member today! Find out more about GKK Membership HERE!
Right handed


Left handed
---