Inside: Chunky Basketweave Cowl pattern with tutorial videos for beginner knitters.
Stay cozy with a super chunky Basketweave Cowl. This easy, needle knit pattern uses just knits and purls to create the iconic basketweave pattern. This cowl is worked as a flat panel then seamed.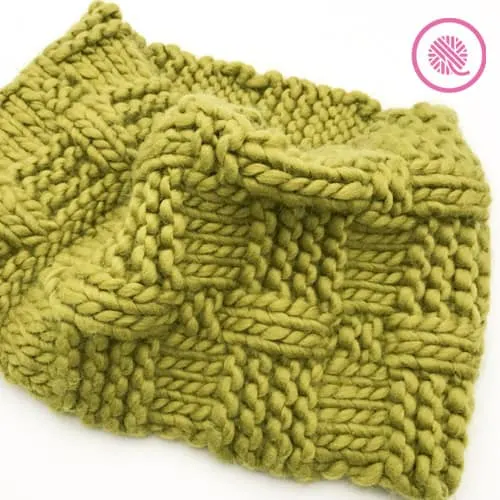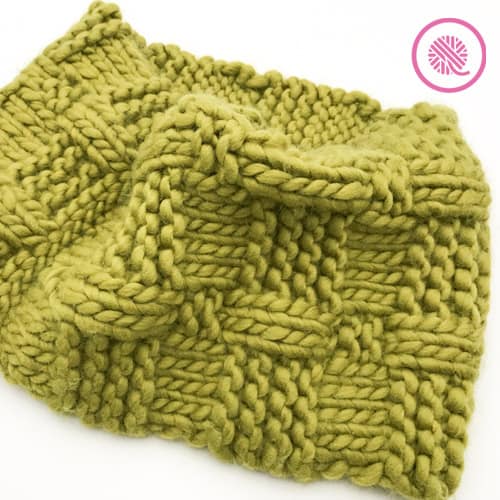 Chunky Basketweave Cowl
By Kristen Mangus
A downloadable PDF of this pattern is available in my Etsy store and from Ravelry at the links below:
MATERIALS
Links below are affiliate links to products I used to create this pattern/video. Clicking the links costs you nothing, but helps support GoodKnit Kisses.
Yarn
#7 (Jumbo) weight yarn, approx. 95 yds.
Wool & The Gang's Crazy Sexy Wool Color Moss Green.
200 g (80m /87 yards) 2 balls used in sample.
Needles
US 15 – 10 mm needles

Tapestry needle for seaming and weaving in tails.
ABBREVIATIONS
K = Knit
P = Purl
Rep = Repeat
RS = Right side
St(s) = Stitch(es)
GAUGE
9 sts x 13.75 rows in 4" in basketweave stitch pattern
SKILL LEVEL Easy
MEASUREMENTS
8.5" x 28" (21.5 cm x 71cm)
NOTES
The basketweave stitch is a multiple of 7 +5.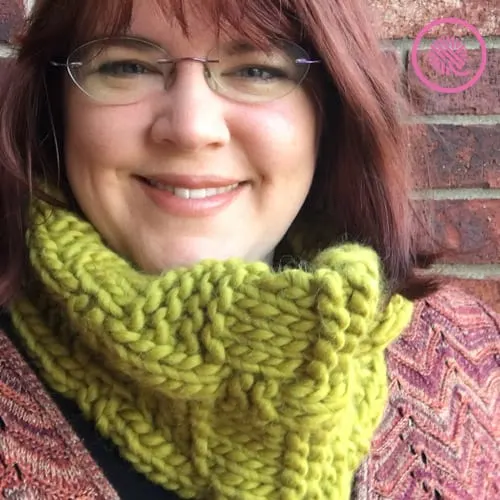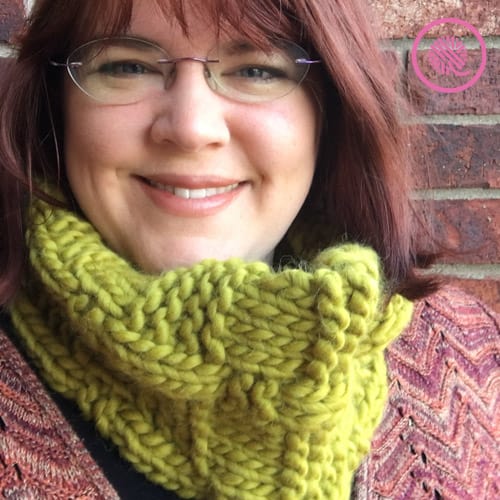 INSTRUCTIONS
Cast on 19 sts.
Row 1 (RS): K all.
Row 2: *K5, p2. Rep from * once. K5.
Row 3: K all.
Row 4: Same as 2.
Row 5: K all.
Row 6: Same as 2.
Row 7: K all.
Row 8: Same as 2.
Row 9: K all.
Row 10: *P5, k2. Rep from * once. P5.
Row 11: K all.
Row 12: Same as Row 10.
Repeat rows 1-12 seven times (8 total repeats).
Repat row 11 once more. Before binding off.
Bind off leaving long tail. Use tail to seam cast on and bind off ends together.
---
PIN IT!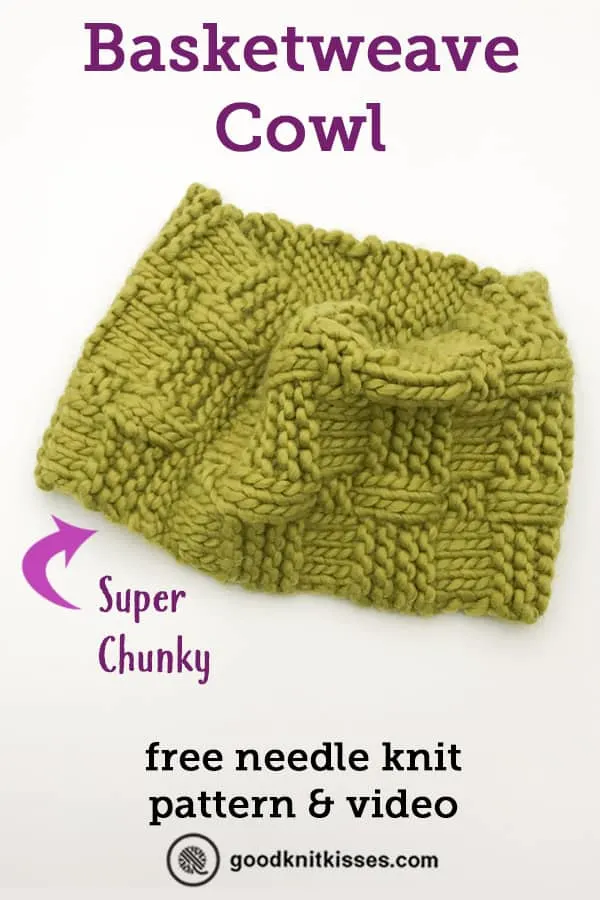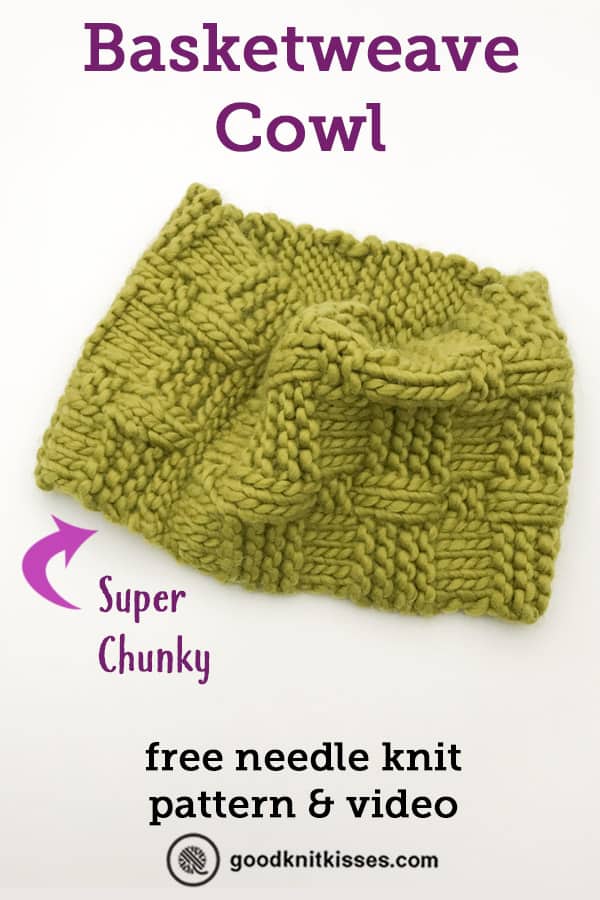 ---
Chunky Basketweave Cowl Video Tutorial
If any of the videos below do not show they may be restricted to GoodKnit Kisses YouTube members only. Find out more about GKK Membership HERE!
The video tutorial for this pattern is part of my How to Knit for Complete Beginners Series. You get step by step instructions for every part of the pattern plus tips and bonus content. Oh, and the video is available for both right and left handed knitters.
Reference the handy timestamps below to help you find exactly what you need:
Lesson 7 Timestamps – click time:
00:00:00 Welcome
00:00:45 Overview – What's covered in this video
00:01:45 Supplies for Pattern
00:04:06 Start Pattern Reading HERE
00:04:45 Working with multiples (ie 7+5 and 6+3)
00:05:44 Pattern Instructions (Row by Row)
00:08:22 Alternate Instructions – Trivet
00:09:05 Alt Instructions – Checkerboard Basketweave
00:11:14 Cast On Basketweave Cowl
00:12:04 HOT TIP – Space during cast on to get gauge
00:13:08 HOT TIP – Spread out cast on to check gauge width
00:14:03 Row 1
00:14:38 Row 2
00:16:30 Row 3 (repeating notes here – listen)
00:17:12 Row 4
00:18:14 Row 5
00:18:33 Row 6
00:19:25 Row 7
00:19:41 Row 8 (TIP – Read your knitting; clue for row 9 start)
00:20:52 Row 9 (Basketweave shifts here)
00:21:06 Row 10
00:22:26 Row 11
00:22:44 Row 12
00:24:01 Repeating instructions for cowl & bind off notes
00:25:08 Bonus – Trivet repeating instructions
00:25:39 Finishing – Sewing ends together to make cowl
00:30:18 Wrap Up
Right handed


Left handed
---
Be sure to follow all the How to Knit for Complete Beginners Lessons.