Inside: Easy Moss Cowl pattern and tutorial videos for both right and left handed knitters.
This easy Moss Cowl brings a little bit of texture and a whole lot of style. This chunky cowl is knit in the round using just knits and purls in a simple repeat.
As I was planning my How to Knit for Complete Beginners series I knew I had to include a lesson on how to knit in the round. I needed an easy pattern to go along with the lesson and a cowl is the perfect project for a new knitter.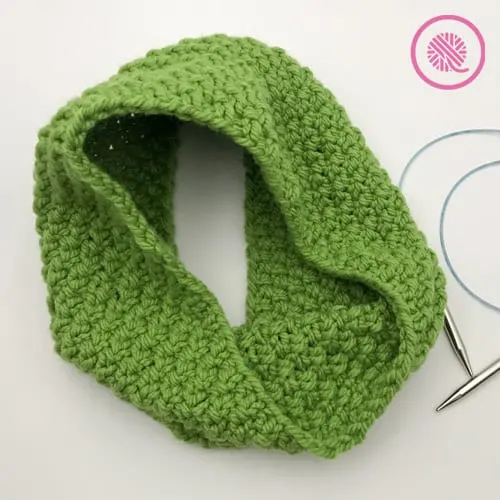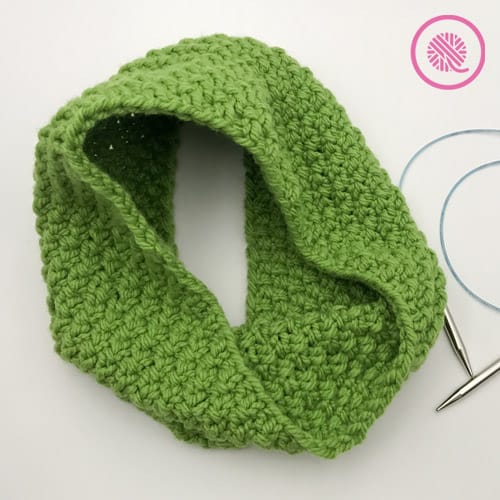 Unlike a hat you don't need to know any decreases to knit a cowl. This makes it ideal as a beginner pattern. I decided to use the moss stitch to give it a bit of texture and because we all love eye-catching designs.
Be sure to watch the tutorial video below. Not only does it walk you through the pattern but is loaded with extra content including calculating cast on, basic pattern reading, using a magic loop, making sure you have enough yarn for a 1 skein project, and troubleshooting common problems
Grab your yarn and needles and let's KNIT!
Easy Moss Cowl Pattern
By Kristen Mangus
A downloadable PDF of this pattern is available in my Etsy store and from Ravelry at the links below:
MATERIALS
Links below are affiliate links to products I used to create this pattern/video. Clicking the links costs you nothing, but helps support GoodKnit Kisses.
Yarn
#6 super bulky weight yarn
Bernat Softee Chunky (108 yds./ 3.5 oz. (99 m/ 100 g)) 1 ball.
Color Limelight used in sample.
Needles
US 11 – 8 mm circular needle with 24"-36" cable.
Addi Turbo circular needle 40" used in sample.
Tapestry needle for seaming and weaving in tails.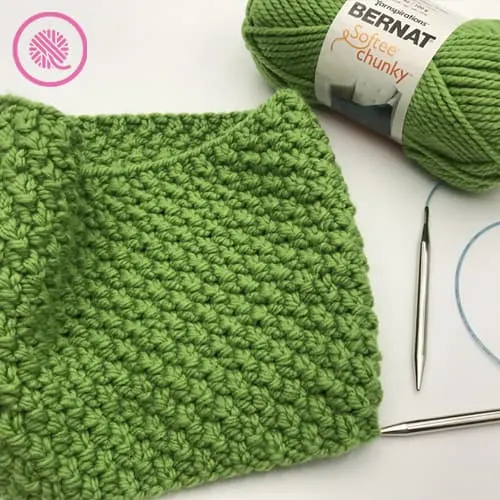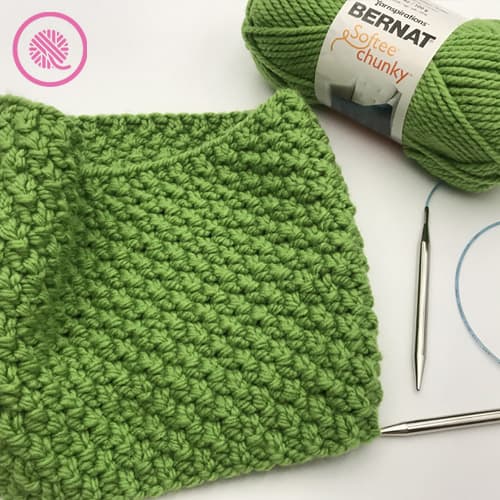 ABBREVIATIONS
K = Knit
P = Purl
PM = Place marker
Rep = Repeat
RS = Right side
SM = Slip marker
St(s) = Stitch(es)
GAUGE
10 sts x 19 rows in 4" in moss stitch
SKILL LEVEL Easy
MEASUREMENTS
Approx. 8" x 29" (20 cm x 73 cm)
NOTES
The moss stitch uses a multiple of 2 stitches. If you want to increase or decrease the circumference of the cowl be sure to cast on an even number.
INSTRUCTIONS
Cast on 72 sts. Join in the round by switching 1st and last stitch. PM between 1st and last sts to mark beginning of round. All rounds are RS.
Rnd 1: *K1, P1. Rep from * to end of rnd. SM
Rnd 2: Same as Rnd 1.
Rnd 3: *P1, K1. Rep from * to end of rnd. SM
Rnd 4: Same as Rnd 3.
Rep Rnds 1-4 until cowl measures approx. 8" or until desired length ending after a Rnd 1 or 3.
Bind off in pattern. Weave in tails.
---
Try these other knit cowl patterns from GoodKnit Kisses:
Basketweave Cowl
Sisal Cowl
Fair Isle Cowl
---
PIN IT!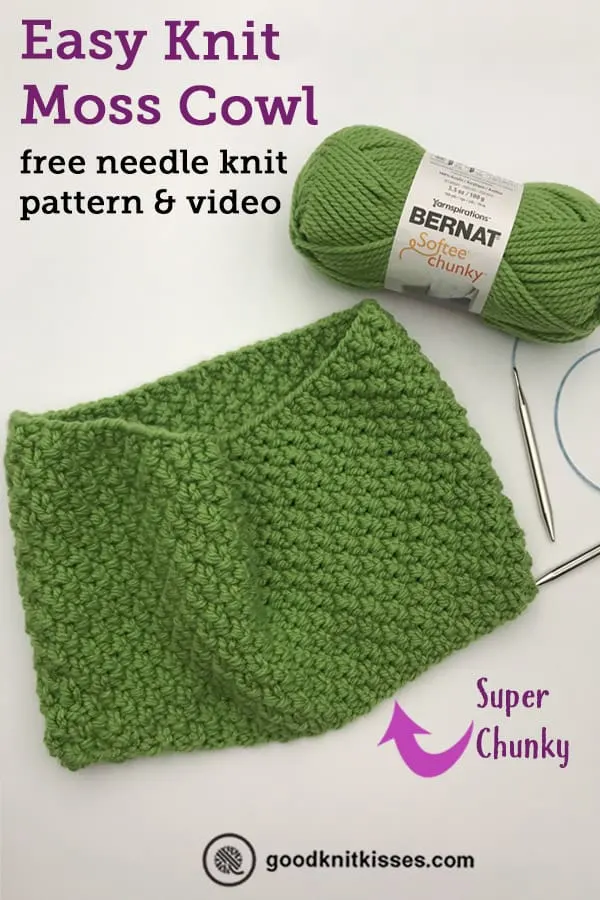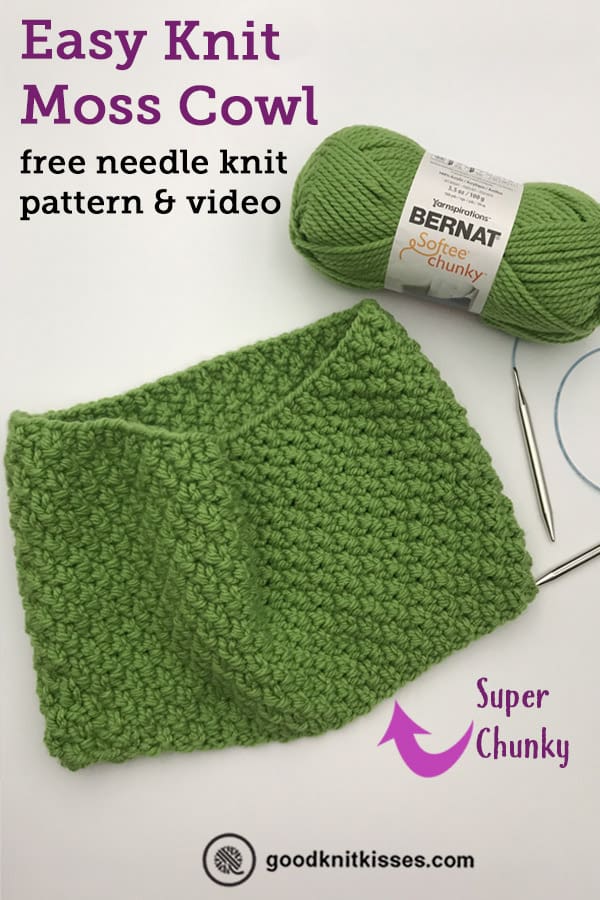 ---
Easy Moss Cowl Pattern Video Tutorial
If any of the videos below do not show they may be restricted to GoodKnit Kisses YouTube members only. Find out more about GKK Membership HERE!
The tutorial videos below teach all the skills you need to not only knit in the round on circular needles, but complete the Moss Cowl pattern. They also includes loads of tips like how to use a magic loop, basic pattern reading and how to avoid common problems. Use the timestamps below to help you navigate the videos:
Lesson 8 Timestamps
00:00:00 Welcome
00:00:29 Overview – What's covered in this video
00:01:12 Supplies for Pattern
00:02:39 Using different yarns & getting same size item
00:04:02 Start Pattern Reading HERE
00:07:36 TIP for 1 ball project; mark end of yarn for bind-off
00:11:03 Pull out enough yarn to cast on
00:11:56 TECHNIQUE – Cast on to get right gauge
00:15:53 Connecting in the round – MAGIC LOOP
00:19:10 Round 1
00:20:14 Magic Loop Troubleshoot – Moving cable loop
00:21:28 TIP – Magic Loop moving as you go
00:22:23 Round 2
00:22:53 Moving cable again in Magic Loop
00:23:39 Ending And 2 – Notes on twisting, etc
00:24:04 Round 3
00:25:07 Round 4
00:25:24 Repeating instructions for cowl
00:21:27 Bind off in-the-round in pattern
00:29:36 Finishing bind off in the round – connect
00:32:10 Finishing – Weaving tails
00:35:04 Wrap Up
Right handed


Left handed
---
Be sure to follow all the How to Knit for Complete Beginners Lessons.