Inside: Learn how to knit in the round using circular knitting needles. Tutorial video and free pattern included in lesson. This lesson is part of the How to Knit for Complete Beginners series.
While learning to knit, we worked with straight needles. You worked all the projects in previous lessons in rows turning your knitting around to begin the next row. Now it's time to learn a new technique.
A technique that lets you avoid the dread that all knitters face…. seaming!
I know you worked projects in the past that involved sewing to finish them up. Let's get rid of that step and learn to work seamlessly.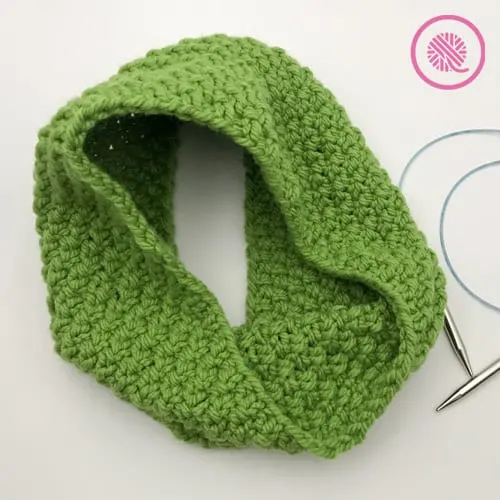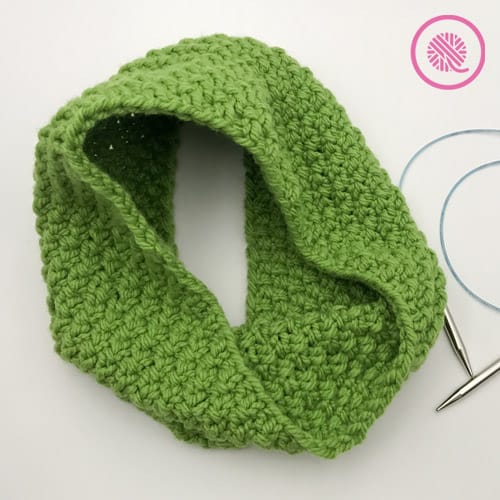 First, let's talk supplies…
When you knit a tube we call that knitting in the round. You're going to notice one major difference when working this method.
First, you need different needles! You need to use either a circular knitting needle or a set of double-pointed needles (DPNs) in order to knit in the round. I recommend beginners stick with a circular needle. DPNs can be very fiddly to manage when you're a new knitter.
When you choose a circular needle size for your project you need to look at the needle size in mm and the length of the cable.
You can get a US11 (8 mm) circular needle with cables ranging from 9 – 40+ inches. The cable length will determine how big a project you can fit on the needle. If it's too short your project will be crammed and difficult to knit; too long is less of a problem.
Look at the picture below. You see how the cable with the stitches is curving down onto my project and the stitches are spread out. That's because I'm making a cowl that's 29″ around on a 40″ circular needle. That's 11 extra inches my project is stretched. It worked out fine and my finished cowl is an even 29″ around, but any more than that and I might have a had a problem.
PRO TIP: If all you have is long cable you can use the Magic Loop technique to make a smaller project. This involves pulling a length of cable between the stitches in the middle of the round to "shorten" the cable length. I'll show you how in the video below.
The most common cable lengths for circular needles are 16, 24, 36 and 40. You can find smaller cables, but most knitters tend to use the magic loop or switch to DPNs for small projects like socks. 60″ cables are useful for large blankets, but unless that's your jam you likely won't need one that long.
For the project I showed you above a 24″ or 36″ circular needle would have been ideal.
How to Knit in the Round
First, cast on the desired number of stitches.
Next, we want to connect the first stitch to the last one we cast on. This is called joining in the round. In a pattern, the instructions will say "Join in the round" or "Connect in the round."
Before you work the join make sure your cast on stitches are not twisted around the cable. You want the cast on edge to hang under the cable all the way around. TIP: If you're going to use the magic loop pull your loop through before joining in the round.
To join, switch the first and last stitches. Remove the first cast on stitch from your needle and hold it in your fingers. Using that same needle pick up to last stitch from the other needle. Then slide the first stitch onto the needle where the last stitch was. This ensures a smooth cast on edge.
Next, place a stitch marker on the needle to mark the beginning of the round. Some patterns spell this out, but even if it doesn't mention it, I like to mark the beginning of the round.
You are ready to knit in the round. Most patterns mark the instructions using the abbreviation Rnd for round instead of typical Row. That handy stitch marker you slid on when you connected in the round will let you know when you finish the round.
Practice your skills on this free Easy Moss Cowl pattern. I designed especially for beginner knitters.
---
PIN IT!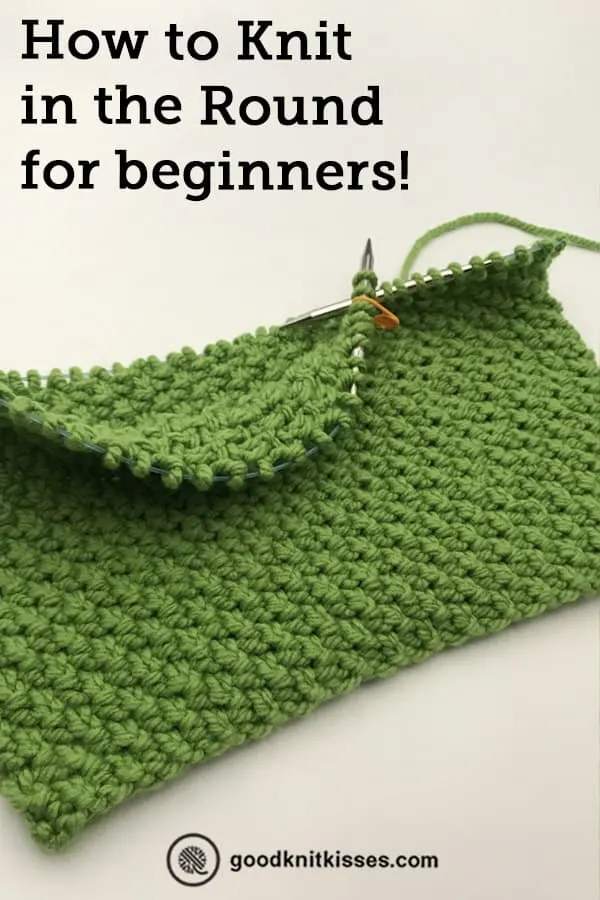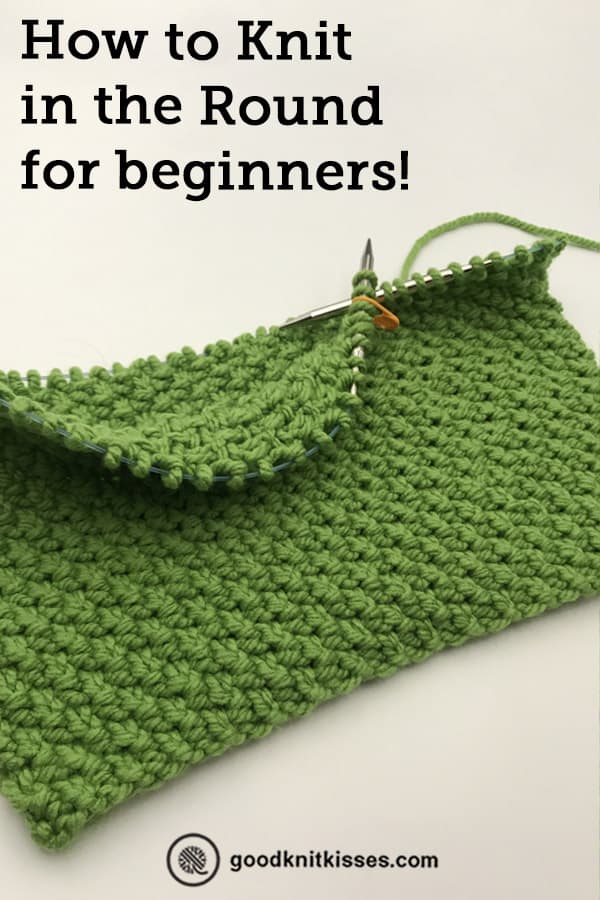 ---
Lesson 8: How to Knit in the Round Video Tutorial
If any of the videos below do not show they may be restricted to GoodKnit Kisses YouTube members only. Find out more about GKK Membership HERE!
The tutorial videos below teach all the skills you need to not only knit in the round on circular needles, but complete the Moss Cowl pattern. They also includes loads of tips to help you avoid common problems. Use the timestamps below to help you navigate the videos:
Lesson 8 Timestamps
00:00:00 Welcome
00:00:29 Overview – What's covered in this video
00:01:12 Supplies for Pattern
00:02:39 Using different yarns & getting same size item
00:04:02 Start Pattern Reading HERE
00:07:36 TIP for 1 ball project; mark end of yarn for bind-off
00:11:03 Pull out enough yarn to cast on
00:11:56 TECHNIQUE – Cast on to get right gauge
00:15:53 Connecting in the round – MAGIC LOOP
00:19:10 Round 1
00:20:14 Magic Loop Troubleshoot – Moving cable loop
00:21:28 TIP – Magic Loop moving as you go
00:22:23 Round 2
00:22:53 Moving cable again in Magic Loop
00:23:39 Ending And 2 – Notes on twisting, etc
00:24:04 Round 3
00:25:07 Round 4
00:25:24 Repeating instructions for cowl
00:21:27 Bind off in-the-round in pattern
00:29:36 Finishing bind off in the round – connect
00:32:10 Finishing – Weaving tails
00:35:04 Wrap Up
Right handed


Left handed
---
Be sure to follow all the How to Knit for Complete Beginners Lessons.